Roswell returns to the Boardwalk in Orangevale 9/16/21
This is gonna be a good one!!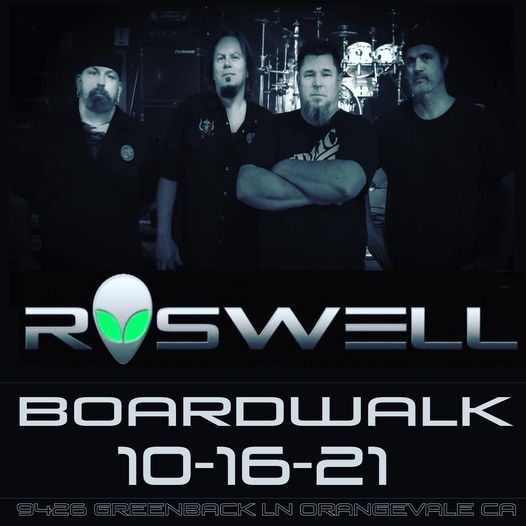 12/30/19
Roswell will be playing 3 shows coming up:
1/22/20 At the Powerhouse in Folsom
2/8/20 At Holy Diver with Blacktop Mojo
2/15/20 At  The Brick in Nevada City
Check the shows page for additional info or ticket links
11/3/19 
Aliens!  
Roswell has been a little quiet as of late. We are in the process of writing and recording some new music. We already had 6 songs and have pieces of 2 others. These should result in some new music by the end of the year, possibly an EP or different single releases. The first ones will have a release show to follow. Thanks for staying with us, your support means everything! Because if not for you, we'd be playing with ourselves!!! 
 8/12/19 
Roswell will be playing shows while simultaneously recording some new material. We will be entering the studio with producer/engineer Glenn Allen and laying down tracks for new songs "Why" and "Eyes" and some newer songs in the set that haven't been recorded yet. Those songs would be "Bullett", "Undone" and "Nothing.  We look forward to releasing these songs and working with Glenn again after recording "She's hot" with him.  We are looking forward to releasing some new material.  
Roswell has some upcoming gigs with Adelita's way at Holy diver, on August 24th. September 13th with Fozzy at Ace of Spades. And September 28th with their buddies in Madmans Lullaby at Vinnie's in Concord.  
Check back often because things change quickly.